AEROPORTOS DA MADEIRA (ANAM)
TOUCH-SCREEN INFO UNITS
Communicate to travellers & employees via touch-screen information kiosks
This project includes different types of large-sized touch + non-touch information kiosks, located in the airports of Funchal (Madeira) and Porto Santo (Porto Santo).

Some kiosks are designed for travellers and offers:
Information & inspiration about the destinations (cultural events, points of interest, hiking & biking routes, weather forecasts etc)

Possibility to scan relevant info on QR codes, to bring it with you on your phone (f.ex. adresses on museums, events stored directly in your calendar etc)


Practical info about the airport, how to get to and from it , parking prices etc.

Other kiosks are for internal use (employees only) and contains:

Internal communication to employees



Daily menues in the different restaurants & cafés


Employee offers (partnership discount programs etc)




Actual satisfaction statistics and other surveys

The system includes external content feed delivered by various sources such as airport employees, cooperation partners located outside (f.ex. the national tourism board) as well as automatised integration to external webressources (f.ex. weather forecasts).
Delivery included:
Design (graphical + interaction) of all interfaces for the different kiosks

Interface development (users, content managers and administrators)

Technical setup (Backoffice CMS + implementation of Acquire)

Technical developments (functionality)

Statistics (tracking, analysis and presentation)

Maintenance contract
Data-flow (simplified):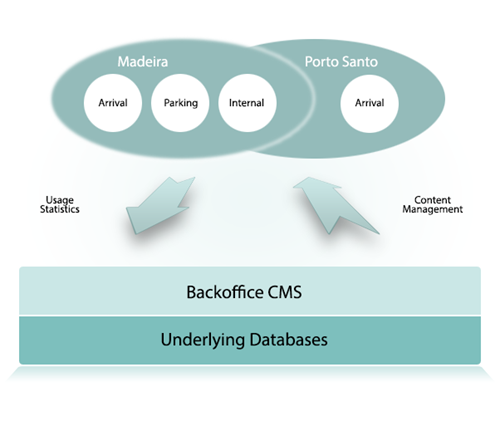 Back to Customers